Anotações (quase) diárias sobre os caminhos da Europa e da União Europeia
---
---
Segunda-feira, 13.02.12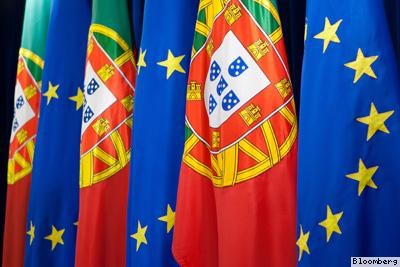 As anticipated in November 2011, Moody's Investors Service has today adjusted the sovereign debt ratings of selected EU countries in order to reflect their susceptibility to the growing financial and macroeconomic risks emanating from the euro area crisis and how these risks exacerbate the affected countries' own specific challenges. Moody's actions can be summarised as follows:
Austria: outlook on Aaa rating changed to negative

France: outlook on Aaa rating changed to negative

Italy: downgraded to A3 from A2, negative outlook

Malta: downgraded to A3 from A2, negative outlook

Portugal: downgraded to Ba3 from Ba2, negative outlook

Slovakia: downgraded to A2 from A1, negative outlook

Slovenia: downgraded to A2 from A1, negative outlook

Spain: downgraded to A3 from A1, negative outlook

United Kingdom: outlook on Aaa rating changed to negative
Moody's Investors Service has today downgraded the government of Portugal's long-term debt ratings to Ba3 from Ba2. The outlook remains negative.
The key drivers of today's rating action on Portugal are:
The uncertainty over the prospects for institutional reform in the euro area and the weak macroeconomic outlook across the region, which will continue to weigh on already fragile market confidence.

The resulting potential for a deeper and longer economic contraction in Portugal than previously anticipated, and the ongoing deleveraging process in the country's economy and banking system.

The higher-than-expected general government debt ratios, which are due to reach roughly 115% of GDP within the next two years, thereby significantly limiting the room for fiscal manoeuvre and commensurately reducing the likelihood of achieving a declining debt trajectory.

Potential contagion emanating from the impending Greek default, which is likely to extend the period during which Portugal is unable to access long-term private markets once the current support programme expires.
Moody's is maintaining a negative outlook on Portugal's sovereign rating to reflect the potential for a further decline in economic and financing conditions as a result of a deterioration in the euro area debt crisis.
RATIONALE FOR DOWNGRADE
As indicated in the introduction of this press release, a contributing factor underlying Moody's one-notch downgrade of Portugal's government bond rating is the uncertainty over the euro area's prospects for institutional reform of its fiscal and economic framework and over the resources that will be made available to deal with the crisis. Moreover, Europe's weak macroeconomic prospects complicate the implementation of domestic austerity programmes and the structural reforms that are needed to promote competitiveness. Moody's believes that these factors will continue to weigh on market confidence, which is likely to remain fragile. This will in turn mean a high potential for further shocks to funding conditions, which will affect weaker sovereigns like Portugal first, increasing its susceptibility to other financial and macroeconomic shocks given the concerns identified below.
This backdrop is exacerbating Portugal's domestic challenges and informs the second driver of Moody's rating action, which is the weakening outlook for the country's economic growth prospects and the implications for the government's efforts to place its debt on a sustainable footing. Moody's expects the Portuguese economy to contract by more than 3% in 2012 given the multitude of downside risks from the region, including the impact of the ongoing deleveraging in the financial and private sector as well as the immediate impact of the government's austerity measures. The unemployment rate is likely to remain high and nominal wages will remain under pressure due to cutbacks in public-sector bonuses and staff levels, thus depressing domestic demand. Moreover, Moody's expectation of a slowdown among Portugal's main trading partners in 2012 will undermine the contribution from net exports, the only driver of GDP growth since the 2009 recession. Lastly, the macroeconomic impact of the targeted fiscal tightening in 2012 is programmed to be as intense as that of 2011, further subduing domestic growth prospects.
The third driver for the downgrade of Portugal's sovereign rating is the unfavourable revision of the forecast for government debt metrics, which are now projected to rise to around 115% of GDP or higher before stabilising. This greater-than-anticipated level is a consequence of the government's assumption of debt from state-owned enterprises and regional governments in 2008, 2009 and 2010, as well as the expectation that the government will need to draw the EUR12 billion bank recapitalisation package that is part of the IMF/EU program. At these levels, the government has very little room to manoeuvre in the event of further economic, financial or political shocks originating from either domestic or external sources. Moreover, in a low-growth environment, higher initial debt levels will further complicate the government's deleveraging efforts, especially since debt affordability (i.e. the cost of servicing the debt as a share of government revenues) is likely to remain more onerous than previously estimated.
The fourth driver of today's rating action is Moody's view that the increasing likelihood of a disorderly default by Greece (if it fails to gain the required level of support of investors for the proposed restructuring terms, or further financial assistance from official-sector supporters) will very likely make Portugal unable to access long-term market funding in September 2013 as planned, and increase pressure on the government to seek a debt restructuring. Moody's believes that there is a high risk of contagion from Greece among weaker euro area sovereigns in particular. While unfavourable market perceptions will not affect Portugal's access to long-term official-sector funding under its International Monetary Fund/European Union support programme until at least 2014, and probably beyond, Moody's notes that access to official-sector funding is not a guarantee of support from private-sector creditors. Moreover, the longer official-sector support is needed, the greater the pressure for a restructuring of Portugal's private-sector debt becomes.
While risks remain weighted to the downside, there are several reasons why Moody's downgrade of Portugal's government debt rating is limited to one notch. The first is the government's success in exceeding fiscal targets, as set out in its IMF/EU-supported economic adjustment programme. This was possible despite the initial significant divergence in the government deficit from these targets in the first half of 2011, additional setbacks such as assuming the debt and debt-servicing obligations of some state-owned enterprises under recent EU accounting rules, as well as EUR1.1 billion in previously unreported debt stemming from the autonomous region of Madeira. These setbacks were partly overcome with the help of the one-off transfer of pension assets worth 3.5% of GDP from the big four commercial banks to the central government, which facilitated a total reduction in Portugal's nominal general government deficit by nearly 6% of GDP in 2011.
The second reason for the limited rating adjustment is Moody's expectation that the Portuguese government will have achieved a structural budget correction in 2011 equivalent to around 4% of GDP, which the IMF estimates to be the largest such adjustment in Europe in 2011. A third reason is that, in 2011, the Portuguese government also began to design and implement a set of further structural reforms intended to bolster the economy's potential growth rate. The Portuguese government, unlike that of Greece, has managed to secure the cooperation of a large segment of the labour force for these reforms.
WHAT COULD MOVE THE RATING UP/DOWN
The rating could be further downgraded if the government's deficits are not kept sufficiently low to place the debt ratios on a clear downward path within the next three years, or if the government fails to meet its fiscal targets or fails to implement its planned structural reforms. An intensification of the euro area crisis and further deterioration of macroeconomic and financial market conditions in Europe, leading to material fiscal and debt slippage in Portugal, could also pressure the country's rating.
Although positive rating pressure is not likely over the near to medium term, Moody's considers that the outlook on Portugal's debt rating could stabilise if the government were to pursue macroeconomic policies that place its debt on a sustainable downward trajectory and buoys the economy's growth potential. The credit would also benefit from continued compliance with the IMF/EU programme and ongoing enactment of the promised structural reforms, which would improve market confidence and increase the likelihood that the Portuguese government will regain access to the private long-term debt market. [Fonte]
Autoria e outros dados (tags, etc)
Segunda-feira, 13.02.12
Na sua coluna de hoje no Financial Times, Wolfgang Münchau critica asperamente a "ignorância e arrogância" dos decisores políticos da Europa ao entrarem no "quinto ano de recessão". Depois de o parlamento grego ter aprovado os cortes de 3,3MM€ para poder receber um segundo empréstimo no valor de 130MM€, Münchau afirma: «Vai haver um período de acalmia mas, daqui a uns meses, tornar-se-á claro que os cortes nos salários e nas pensões, na Grécia, agravarão a depressão. Os políticos europeus também descobrirão que num ambiente tão desolador até mesmo um pequeno objetivo para privatizações será irrealista. O PIB grego caiu 6% em 2011 e, este ano, continua a desacelerar a igual ritmo. E em breve será necessário outro acordo com os credores privados. Há quem defenda que seria melhor obrigar a Grécia a sair já da zona euro e usar os fundos para salvar Portugal. Discordo. Penso que é muito melhor reconhecermos o desolado estado em que ambos os países se encontram, deixá-los falir dentro da união monetária, e então, usar um fundo de resgate aumentado para os ajudar a reconstruírem-se e, ao mesmo tempo, criar um muro de proteção que abranja os outros todos. […] Vai ser muito caro. Mas ignorar a realidade durante mais dois anos será ruinoso».
Autoria e outros dados (tags, etc)
Segunda-feira, 13.02.12
"O novo plano de austeridade, exigido pela UE e pelo FMI, foi aprovado em 12 de fevereiro, pelo parlamento grego, tendo como pano de fundo uma série de manifestações e atos de violência. Mas o plano não resolve nada e deixa os gregos sem resposta quanto ao seu futuro, lamenta um editorialista. Não há dúvida: o país deve permanecer na zona euro. Qualquer outra hipótese seria uma tragédia. O facto de alguns compararem as dificuldades da sociedade atual com as de uma falência não controlada é uma questão de superficialidade política. Uma política séria seria uma política que, além das opções partidárias, tivesse também em conta ligeiras diferenças. A "clivagem" é má conselheira. No que se refere a tal conceito, "dentro ou fora" do euro não é a pergunta certa. A resposta de qualquer cidadão consciente é "dentro". Contudo, a verdadeira questão é esta: para além da severidade inadmissível, o novo plano de austeridade que nos é imposto pelos credores, com tudo o que comporta de bem e de mal, poderá fazer-nos sair da crise ou será o caminho mais curto para a falência não controlada? No fundo, pedem-nos uma desvalorização interna extrema que, na situação atual da nossa economia, terá mais efeitos nefastos do que benéficos. De um modo mais geral, cada plano económico sem viabilidade social, com uma falência não controlada e um desemprego que atinge a população ativa, não pode estabilizar nem relançar a economia e, ainda menos, constituir um novo modelo de produção virado para o exterior. "Furam-se pneus", com uma leviandade incrível, ao mesmo tempo que se garante que, desse modo, o veículo andará mais depressa em 2012 ou em 2013. O pior é que, quando se faz notar isso àqueles que conduziram o nosso país para este beco sem saída, eles respondem: "Então, apresentem-nos uma solução alternativa." Como se a que eles propõem fosse uma solução viável e séria. Tenho muito medo de que não haja solução, no quadro das discussões com os outros Estados-membros. As responsabilidades do sistema dominante são imensas. Mesmo agora, passados dois anos, continua a não haver um plano realista de saída da crise, com hipóteses de obter o apoio de toda a classe política. A troika apresenta-nos tudo já pronto e nós negociamos, para nada… Por um lado, temos a responsabilidade da Europa. Os alemães "puxaram demasiado a corda". O plano alemão é de tal ordem que nem a Grécia, nem nenhum outro país europeu, poderá suportá-lo. Em breve, será a Alemanha a ter um problema! E nós temos que suportar. São inevitáveis alterações ao "plano de salvamento da Grécia", com novas intervenções sobre a dívida e o empréstimo [da UE e do FMI] e a luta contra a recessão..." [Fonte]
Autoria e outros dados (tags, etc)
---
---
---